Harri Stojka
guitarist, producer, composer, lyricist, arranger and singer, began his career in 1970 with the formation of the duo Jano and Harri Stojka at the legendary 20er Haus, the former Vienna Arena.
Soon after, the self-taught youth rose to become the bassist for the band "Gipsy Love" and played as a guitarist with R&B, soul and rock-n-roll artist Peter Wolf.
In 1974 he founded the "Harri Stojka Express", which was the singular Austrian group performing with the likes of Jimmi Cliff, Eric Burdon, Van Morrison and Carlos Santana at the Open Air Festival in Vienna's Prater Stadium.
This was followed by his being invited to the legendary Montreux Jazz Festival where he performed with Larry Coryell, playing as part of the "Guitar Summit". This appearance in front of a highly critical and experienced audience, alongside musicians of world class renown, was the breakthrough moment for Stojka.
The LP "Live at Montreux" provides an intimate witness to the beginning of his impressive international career.
Since then, Harri became one of the most important jazz musicians in Europe. The Montreux performance was followed by invitations to top jazz festivals with Harri headlining the events.
These included the Gibraltar International Jazz Festival, European Music Open Festival Oradea, Internationales Donaufest Ulm, Vienna Jazzfestival, Jazzfestival Rieve de Gier, Moers Jazzfestival, Jazzfest Bolzano, Gipsy Jazz Festivals in Paris, Anger, London, Barcelona, Kathmandu, New Delhi, New York, Syracuse Jazz Festival, Detroit Jazz Festival, Jazzfestival Bad Liebenzell, Montreux Jazzfestival, Carthage Festival, Regensbruger Jazz Weekend, Kahmoro Festival Prag, Sziget Festival Budapest, Django Reinhardt Memorial Festival in Augsburg, Grazer Jazz Festival, Kultursommer St. Paul, Wiesen Festival, Bardenfestival in Nürnberg, Sommerfrestival der Kulturen in Stuttgart, Güssinger Kultursommer, Jazzfestival in Jakarta, in Yogjakarta, City Palace Jaipur, Dehradun Festival, …..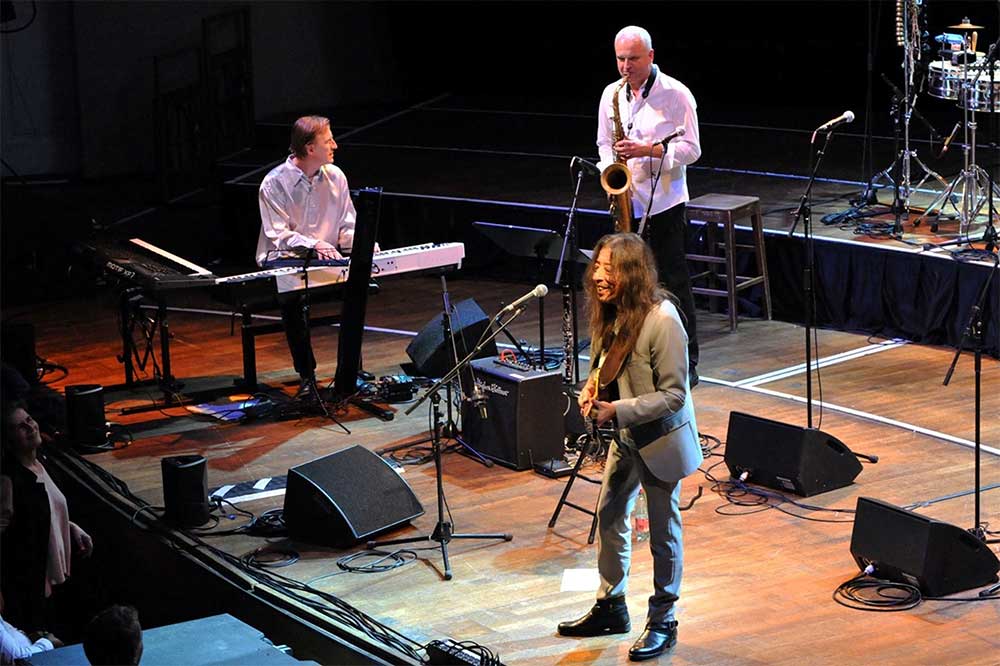 Stojka has influenced many guitarists
Harri Stojka has achieved something that many can only dream of – to create their own unique style. For him, just a few notes into a solo, it is one that is easily recognizable as that of Harri Stojka.
What Harri's guitar playing virtuosity brings is blended with a "blues-y" feeling; that special drive, the phrasing, the sound of his guitar. He is at home with many styles of music, from pop to avant-garde jazz, from swing to bebop, gipsy and hard rock.
With such versatility, and with his constantly furthering the development of his musical style, Stojka has influenced many guitarists and is often engaged by budding young musicians. A gifted musician, docent to aspiring musicians, politically active and globally successful World Music / Jazz / Swing / Rock star guitarist Harri Stojka has significantly influenced the history of modern Austrian music.
Awards
2005 Harri Stojka CD "A Tribute to Swing" was nominated in Germany for the Echo Award – for best CD production from abroad.
2010 public release of the documentary: "Gypsy Spirit, Harri Stojka a trip"
2011 the film "Gypsy Spirit, Harri Stojka a trip", has been awarded a Romy for best feature documentary.
2013 Harri Stojka was awarded the Golden Medal of the Republic of Austria!
2016 Harri Stojka was nominated for most successful Austrian Award.
From a Lovara Roma lineage
A lifelong Viennese, Harri comes from a Lovara Roma lineage of Romani people, well-known horse traders and herdsmen that departed the Wallachia region of Romania and settled in Vienna to live and work more than 160 years ago. Sadly, the family lost a significant number during the Second World War, victims of Nazi determination to exterminate the Romani people from Europe in the "Porajmos". Many relatives did survive though, including Harri's father, Mongo, who suffered through the concentration camps Auschwitz-Birkenau, Buchenwald and Flossenburg as well as the infamous death march before being the liberated by the 3rd U.S. Army under the leadership of General George S. Patton.
A sense of pride and courage for the future. More often than not, Stojka committed himself to a variety of projects that were dedicated to the memory of the work and suffering of his people during this time.
Harri's 2005 CD, "Garude Apsa" / "Hidden Tears" recalls the musical roots of the Romani in order to give the present generation a sense of pride and courage for the future. In a Europe that is increasingly politically committed to the preservation of the Roma culture, Stojka has launched the campaign "I am against the term Gypsy and for the term Roma" alongside his work as a musician, which has generated much general public and international interest.